.....to all my friends and family. Here's wishing that 2018 is better than 2017 was to our family and your's. We had high's (Zane's birth) with real lows (DH lung surgery) but we all came thru it. One thing I've noticed though is that the older I get, the harder it is to come thru the low's. Am I the only one?
I want to share some pics of Zane and Little John that crack me up. First off is Little John wearing my stitching glasses. He looks like Ben Franklin...
...he's also a huge ham. Then one of him with us at Best Buy....he said he was tired and took advantage of the shopping cart.
Here's a story about this little guy that will give you a smile. He has begun potty training and the other day Peyton told him to go get on his potty and pee. He was wearing his big boy pants so she figured it would be no problem for him. She went back to the bathroom to check on him a few minutes later and there's our boy with his pants down standing on top of the closed potty peeing on the lid that he was standing on. LOL He actually took it very literally....peeing on his potty.
Next is Zane who was wide awake for this photo and you get to see his big blue eyes.
I swear this boy changes his looks every day.
I started a new design by Hands on Designs. It's called "Sunshine on a Stem" and I'm stitching it for a friend.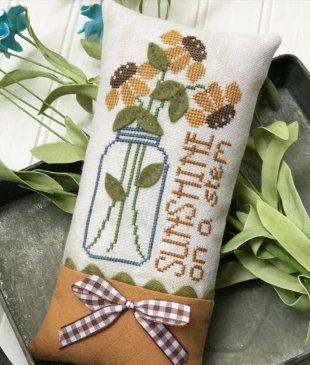 I'm doing mine a little different and I'll post a pic when I'm finished with it.
I hope everyone in the north is staying toasty warm on this Monday afternoon. It's in the 50's here but damp and rainy. To me it's freezing. Vallie has on her sweater and won't get off my lap which is fine with me because she feels warm.
Just keep in mind that after the Winter chill there is Spring.....
Blessings, Barbara