Good Sunday Ladies and I hope you are enjoying this afternoon of leisure and getting some much needed stitching (or resting) done. I decided to do some sewing and work up a pattern for my half doll that I showed you weeks ago that I purchased on Etsy. Here she is as I purchased her....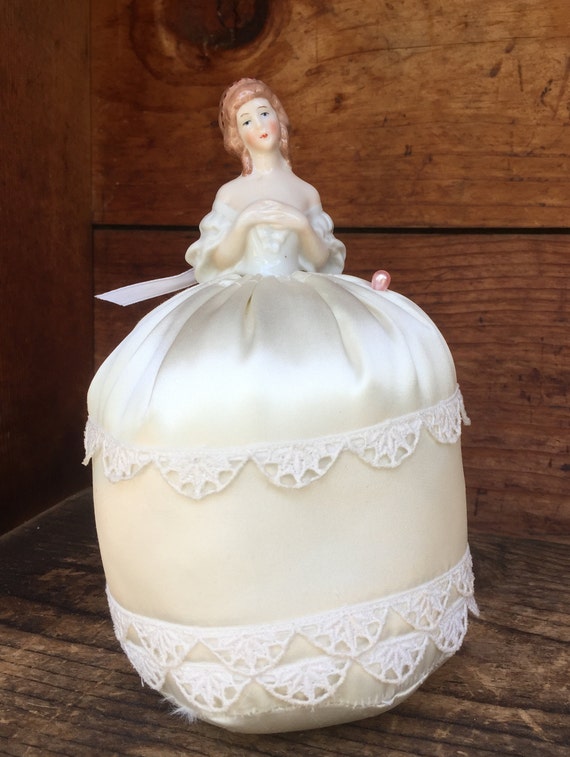 and here she is now....
She is part pin cushion and part caddy. For the dress I used mini charm squares and I used a coordinating semi solid for the pockets. The bottom I used a cd so she sits very flat and I stuffed the bottom of her with walnut granules with polyfiber on top for the pincushion part. I used a satiny lace that matches the stole around her shoulders and I used the same for the lace around her waist. I had no pattern for this but I like how she turned out and she's sitting beside my stitching chair to hold my glasses and scissors in her pockets. I've always wanted to make one of these and now I can strike that off my "to do" list.
Peyton has decided to make some knitting markers and she did a beautiful job. She really can't get into needlework because of her two little ones but this she can do at night while sitting in bed watching tv. You will find these in her store at the top of my blog page under "Peyton's Stitch Markers for Sale". It will have the price plus shipping and with each order you receive a surprise which I'm not allowed to tell you about. These will hopefully help pay for her medical bills since their insurance isn't the best.
That's about all for now. Thank you for stopping in and also for all the prayers that are being said for Peyton.
Blessings for a Wonderful Week, Barbara